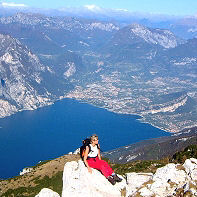 A fantastic panorama of Lake Garda and the Dolomites of Trentino Italy in our Hiking-trekking week
Difficulty of the guided Hiking Trekking week: easy/medium
Location of the guided Hiking Trekking week: Lake Garda - Pasubio Dolomites
Duration of the guided Hiking Trekking week: 5 days
Date of the guided Hiking Trekking week: see our calendar - upon request -
Min. no. of participants. 5 - Price: EUR 320,00
Meeting point: motorway exit Rovereto Sud/South - car park - 9.30 a.m. or in your Hotel at Lake Garda
Description of our guided trekking week in the Italian Dolomites
1st day: Lake Tenno - "Rifugio San Pietro" Lodge near Lake Garda
hiking 3 to 4 hrs - difficulty: easy hiking - see our link [FsP]
2nd day: MOUNT BALDO 2.079 m directly above Lake Garda
hiking 4 to 5 hrs - difficulty: easy hiking - see our link [FBa]
3rd day: CROSSING LEDRO VALLEY TO LIMONE
hiking 5 to 6 hrs - difficulty: easy hiking - see our link [FLL]
4th day: PASUBIO DOLOMITES The mountains of the 1st World War
hiking 4 to 5 hrs - difficulty: easy hiking - see our link [RPa]
Overnight stay in bivouac or tent or in mountain lodge/mountain hut
5th day: CROSSING PASUBIO DOLOMITES from hut to hut
hiking 7 to 8 hrs - difficulty: medium hiking - see our link [RPa]
Note: The duration and difficulty of the daily hiking trips might be subject to variations depending on the number of participants and their needs. Upon request of the participants, it is possible to go on easy Via Ferrata.
What to bring along on the guided hiking trip
backpack - food and drink - light windcheater - trekking shoes - hiking sticks.
For the bivouac: tent - sleeping bag - mat - flashlight - gas cooker.
Note: please calculate ca. EUR 50,00 extra per day for half-board in small hotel (3 days).
Wander-Trekkingwoche am Gardasee und Pasubio Dolomiten in Italien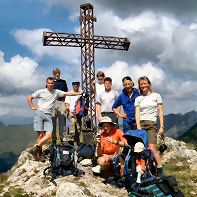 Eine von mehreren Gipfeln die wir in unserer gefuehrten Wanderwoche am Gardasee erreichen werden
Schwierigkeit: leicht/mittel
Wo: Gardasee und Pasubio Dolomiten
Dauer der gefuehrten Wanderwoche: 5 Tage
Wann findet die gefuehrte Wanderwoche statt: siehe unser Kalender - Nach Anfrage
Teilnehmerzahl: 5 - Preis: EUR 320,00
Treffpunkt: Autobahnausfahrt Rovereto Sued - Parkplatz - 9.30 Uhr oder in Euerem Hotel am Gardasee
Beschreibung des Ablaufs unserer Wanderwoche am Gardasee und Trekking in den Pasubio Dolomiten
1. Tag: Lago di Tenno-Canale-Rifugio S.Pietro in der Naehe vom Gardasee
Wandern 3-4 Std. - Schw. leicht - siehe [FsP]
2. Tag: Monte Altissimo (Monte Baldo) 2.079 m
Wandern 4-5 Std. - Schw. leicht - siehe [FBa]
3. Tag: Ueberschreitung Val di Ledro-Limone
Wandern 5-6 Std. - Schw. leicht - siehe [FLL]
4. Tag: Pasubio Dolomiten Die Berge des 1. Weltkriegs
Wandern 4-5 Std. - Schw. leicht - siehe [RPa]
Uebernachtung im Biwak oder Zelt oder in einer Berghuette
5. Tag: Pasubio Dolomiten - Ueberschreitung von Huette zu Huette
Wandern 7-8 Std. - Schw. mittelschwer- siehe [RPa]
Achtung: Die Dauer und Schwierigkeit der Tageswanderungen sind, je nach Teilnehmerzahl und Verlangen der Teilnehmer, variabel. Auf Anfrage der Teilnehmer, koennen auch leichte Klettersteige gegangen werden.
Mitzunehmen auf die gefuehrte Wanderung sind
Rucksack - Wasser - Proviant - leichte Windjacke - Bergschuhe - Wanderstoecke. Fuer Biwak: Zelt - Schlafsack - Matte - Taschenlampe - Gaskocher.
Anmerkung: fuer Halbpension im Hotel muss man mit zusaetzlich ca. EUR 50,00/p. Tag rechnen (3 Tage).
Settimana del trekking al Lago di Garda e nelle Dolomiti del Pasubio in Trentino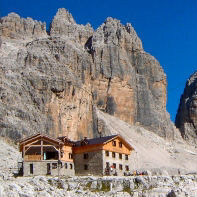 Una settimana attiva nelle Dolomiti del Trentino rinfranca il fisico e la mente
difficolta' : facile/medio
localita' : Lago di Garda Trentino e Pasubio Dolomiti
durata: 5 giorni
Date: vedi il nostro calendario - a richiesta -
Numero minimo partecipanti: 5 - Prezzo: EURO 320,00
Punto d'incontro: uscita autostradale Rovereto Sud - parcheggio - ore 9,30 o nel vostro Hotel al lago di Garda
Descrizione dello svolgimento della settimana di escursionismo e trekking in Trentino
1. Giorno: Lago di Tenno - Canale - Rifugio S.Pietro
escursione ore 3/4 - difficolta: facile - Vedi [FsP]
2. Giorno: Monte Baldo m. 2.079
escursione ore 4/5 - difficolta: facile - Vedi [FBa]
3. Giorno: Traversata Val di Ledro-Limone
escursione ore 5/6 - difficolta: facile - Vedi [FLL]
4. Giorno: Pasubio Dolomiti - I monti della grande guerra
escursione ore 4/5 - difficolta: facile - Vedi [RPa]
Pernottamento in bivacco o tenda oppure in rifugio alpino
5. Giorno: Traversata del Pasubio
escursione ore 7/8 - difficolta: media - Vedi [RPa]
Avvertenza: I trekking giornalieri possono variare in durata e difficolta' a seconda delle capacita' ed esigenze dei partecipanti. Su richiesta degli iscritti e' anche possibile effettuare delle escursioni su via ferrata (facile)
Cosa portare
Zaino - acqua - viveri - giacca a vento leggera - scarpe da trekking - bastoncini.
Per il bivacco: tenda - sacco a pelo - materassino - lampada - fornello
Annotazione: calcolare circa 50 Euro al giorno per la mezza pensione in albergo (3 gg.)
HIGHLIGHTS OF ROCK CLIMBING HIKING TREKKING VIA FERRATA WITH MOUNTAIN GUIDES SCHOOL ARCO AT LAKE GARDA AND IN THE DOLOMITES ALPS OF ITALY

BRENTA TREK - Hiking from lodge to lodge in the Brenta Dolomites Trentino Italy
Guided 5 days hiking and trekking trip from lodge to lodge or hut-to-hut with mountain guides. Crossing the Brenta Dolomites Italy from the South to the North

Via ferrata courses at Lake Garda Dolomites Alps Italy with mountain guides Arco
One day rock climbing course in the crags at Lake Garda and 2 days training on the via ferrata in the Dolomites Alps of Trentino in Italy with your English speaking mountain guide, overnight in Hotel (B&B)

Via ferrata delle Bocchette in the Brenta Dolomites Alps of Italy
Proposal of Mountaineering Alpine School Arco Lake Garda Trentino for the crossing from North to South of Brenta Dolomites in Italy, from lodge to lodge, on the via ferrata "Bocchette del Brenta" with our mountain guides

Via ferrata Western ridge of Marmolada Dolomites Alps Italy
Dolomites Alps Italy, guided via ferrata on the Western crest of Marmolada Top of Penia (3.343 m) suggested by Mountaineering climbing School Mountain Guides of Arco Trentino

Rock climbing course in Arco at Lake Garda - Mountaineering courses on the Marmolada Dolomites with Mountain Guides School Arco Lake Garda
Rock climbing course at Lake Garda (2days) with overnight in Hotel (BB), alpine mountaineering course (3 days) and teaching on the glacier and via ferrata in the Marmolada Dolomites Alps of Italy with base in a mountain lodge

Rock climbing courses hiking and trekking in Italy and Greece on Kalymnos Island
Rock climbing by mountain guides Arco at Lake Garda, courses and personal instruction or tuition on Kalymnos Island in Greece. Via ferrata and mountaineering courses in the Marmolada Dolomites Alps Italy
Our internal links
Hiking trekking in the Dolomites Alps Italy Brenta Trek
Gardatrekking partners in the Italian Dolomites Alps
Guided Hiking and Trekking easy in the Dolomites Alps Italy
Guided hiking Trekking medium in the Alps of Italy
Hut-to-hut lodge to lodge hiking in the Dolomites Alps Italy
Kalymnos Island Greece guided hiking and trekking holidays
Mountain lodges of Trentino Dolomites Alps Italy
Marmolada Dolomites Italy guided via ferrata western crest
Mountain guides Alpine School Arco Trentino Dolomites Italy
Outdoor incentives firmenevents Dolomites Alps Italy
Trekking week Wanderwoche Dolomites Alps Italy
Alpine moutaineering courses and Trekking in the Dolomites Italy
Via ferrata Bocchette alte and centrali in the Brenta Dolomites Alps Italy