Outdoor incentives teambuilding at Lake Garda Dolomites Alps Italy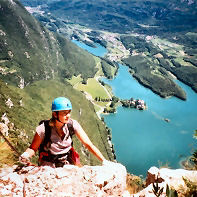 Teambuilding outdoor corporate incentives at Lake Garda Italy:
hiking, trekking hut to hut, canyoning, rock climbing by Mountain Guides Alpine School Arco Dolomites
Here you will find our proposals for travel agencies, companies, clubs and associations which would like to offer to their clients, personnel or members an outdoor activity in a scenic location in the Trentino Dolomites. Our School of alpine guides is taking care of the complete organization and will prepare an individually tailored program for every corporate business incentive or professional event and meeting. During our sports activities such as canyoning, rock climbing, hiking, via ferrata and trekking, the participants will be accompanied exclusively by our professional Mountain Guides.
The destination of our excursions is the Natural Park "Corna Piana" at the foot of Monte Altissimo (Baldo) or even its peak at 2.059 m. We are proceeding on easy paths, following the trails of the first World War, through the Natural Park which is very well-known for its endemic plants and animals. We always choose a cozy mountain hut as a destination for our activities. There the participants will have time to relax and enjoy a typical local snack at very reasonable prices. We strongly recommend to visit the peak of Monte Altissimo, the "balcony over Garda Lake" from where you can indulge in the panorama of the entire lake, as well as the Trentino area. According to the wish and physical condition of the participants, it is possible to choose from several alternative tracks leading to the top of Monte Altissimo.
Once in a life-time ! Many are dreaming to spend the night in a mountain lodge after a typical local dinner in a cozy atmosphere surrounded only by the peace and quietness of the perennial glaciers. This offer is destined for groups with 20 to 35 participants and includes the accompaniment of a licensed mountain guide for the ascent and descent as well as the illustration of the particular historical and alpine features. The choice of the mountain lodge is season-bound and depends on the request of the participants as well as the culinary quality.
A
via ferrata
is a mountain route which is equipped with fixed cables, stemples, ladders, and bridges. The use of these allows otherwise isolated routes to be joined to create longer routes which are accessible to people with a wide range of climbing abilities. Walkers and climbers can follow via ferratas without needing to use their own ropes and belays, and without the risks associated with unprotected scrambling and climbing. In the area of Lake Garda there are many easy but panoramic excursions on via ferratas ideally for our teambuilding incentives. These incentive trips are reserved for people with a little mountaineering experience and who do not suffer from vertigo.
Our alpine school is proud of its many years of experience. We have noticed that everyone regardless of age or a special physical preparation, who practice climbing for the first time, are very much impressed and enthused of the surprising simplicity of this activity. The same applies to canyoning which is nothing else but roping down (Abseiling) canyons and torrents accompanied by one of our officially licensed alpine and canyon guides. The necessary equipment will be made available by our school free of charge. The area around Garda Lake with a plentiful variety of canyons and torrents - has become the center for this new outdoor activity with an ever increasing number of devotees. The participants of both of our activities offered, will be accompanied by government licensed and officially registered alpine guides who are bound by law to have a third party indemnity insurance.
The proposal of our "active-week" is mainly destined for a sportive group of friends or students who do have the physical condition and the interest to pass a week filled with ACTIVITY in the mountains. During the past years, we have satisfied many German organizations/schools who had decided to confide their students to us during their school holidays for them to pass a vacation in sound activity. This is the weekly program: Monday - ROCK CLIMBING; Tuesday - VIA FERRATA; Wednesday - CANYONING; Thursday and Friday - TREKKING WITH OVERNIGHT STAY IN A MOUNTAIN LODGE.
THESE PRICES ARE APPROXIMATE PRICES AND ARE VALID ONLY FOR AGENCIES AND/OR INTERMEDIATE AGENTS WITH WHOM WE HAVE A CONTINUING BUSINESS RELATIONSHIP. THESE PRICES INCLUDE THE RENTAL OF THE TECHNICAL EQUIPMENT WHICH IS NECESSARY FOR THE PERFORMANCE OF OUR ACTIVITIES.
trekking - for everybody - pax min.9 - EU 40,00
via ferrata - active persons - pax 5 - EU 80,00
rock climbing - active persons - pax 5 - EU 70,00
canyoning - for those who enjoy water - pax 5 - EU 70,00
mountain lodge - for everybody - 2 days - pax 5 - EU 135,00
active week - active persons - 4 days - pax 5 - EU 350,00
All of our collaborators of alpine climbing school Arco are government licensed mountain guides with international diploma and are officially registered with the regional and international Mountain Guides' Association. With no exception they are bound by law to have a third party indemnity insurance.
HIGHLIGHTS OF ROCK CLIMBING HIKING TREKKING VIA FERRATA TEAMBUILDING AT LAKE GARDA AND IN THE DOLOMITES ALPS OF ITALY

BRENTA TREK from hut to hut in the Brenta Dolomites
Guided 5 days hiking trip from lodge to lodge or hut-to-hut with mountain guides. Crossing the Brenta Dolomites Italy from the South to the North

Via ferrata courses at Lake Garda
One day rock climbing course in the crags at Lake Garda and 2 days training on the via ferrata in the Dolomites Alps of Trentino in Italy with your English speaking mountain guide

Via ferrata delle Bocchette in the Brenta Dolomites
Proposal of Mountaineering Alpine School Arco Lake Garda Trentino for the crossing from North to South of Brenta Dolomites in Italy, from lodge to lodge, on the via ferrata "Bocchette del Brenta" with our mountain guides

Via ferrata Western ridge of Marmolada
Dolomites Alps Italy, guided via ferrata on the Western crest of Marmolada Top of Penia (3.343 m) suggested by Mountaineering climbing School Mountain Guides of Arco Trentino

Rock climbing course in Arco at Lake Garda
Rock climbing course at Lake Garda (2days) with overnight in Hotel (BB), alpine mountaineering course (3 days) and teaching on the glacier and via ferrata in the Marmolada Dolomites Alps of Italy with base in a mountain lodge

Rock climbing courses in Arco Italy
Rock climbing by mountain guides Arco at Lake Garda, courses and personal instruction or tuition on Kalymnos Island in Greece. Via ferrata and mountaineering courses in the Marmolada Dolomites Alps Italy

Outdoor incentives corporate teambuilding
Teambuilding outdoor incentives in the Dolomites at Lake Garda and in the Alps of Italy for mountain hiking trekking via ferrata rock climbing canyoning with mountain guides school Arco

CANYONING TREK ITALY
Canyoning-trekking trips at lake Garda Italy a new style of canyoning in Europe. The Pont del diaol is intertwining legends that are travelling through centuries of history
Our links regarding mountain activities
Guided Hiking and Trekking easy . Guided hiking Trekking medium . Hut-to-hut lodge to lodge hiking . Kalymnos Island Greece guided hiking and trekking holidays . Mountain lodges of Trentino . Mountain guides Alpine School Arco . Trekking week Alps Italy . Gardatrekking partners