GUIDED HIKING TREKKING VIA FERRATA ROCK CLIMBING CANYONING ALPS ITALY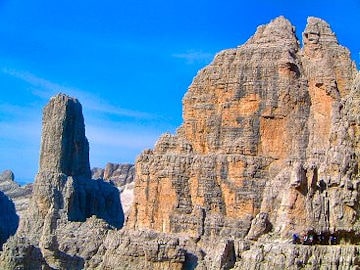 The impresting towers of Brenta Dolomites in Italy - Location of the famous via ferratas Bocchette routes
I would like to go ...
FROM HUT TO HUT TRIPS DOLOMITES
VIA FERRATA MARMOLADA DOLOMITES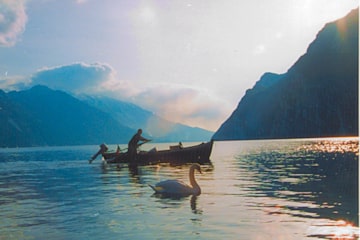 The tranquility of Lake Garda at Sunset in Italy - Location of our rock climbing and via ferrata courses
I would like to do ...
ROCK CLIMBING COURSE ARCO LAKE GARDA
MOUNTAINEERING COURSE MARMOLADA
GUIDED OUTDOOR INCENTIVES TEAMBUILDING
NEWS CANYONING-TREK ON MONTE BALDO
Useful links
CALENDAR OF ALPINE SCHOOL ARCO
What are your skills and your expectation of the activities the mountains ?
Guided by mountain guides easy trips
I would like to participate in an easy tour at Lake Garda or hut to hut in the Brenta Group. I do not have any experience and I would like to learn how to move on alpine territory.
Hiking medium difficult in the Alps
My physical condition is rather good. I am able to walk for several hours on a mountain path. I would like to learn the principles of alpine mountaineering at Lake Garda or in the Alps.
Guided mountaineering by mountain guides
I have got some mountaineering experience. I would like to go one step ahead and/or learn how to move on a glacier or experience mountaineering adventure in the Dolomites.
From lodge to lodge trips in the Italian Mountains
My mountaineering experience is rather good. I would like to take part in a tour hut-to-hut for several days. Includes overnight stays in mountain lodges (rifugi alpini) in the Italian Alps.
Guided by mountain guides hiking week at Lake Garda
When you are tired of everyday life, this is the moment to get away from the routine and enjoy the beauty which nature can still offer us with our Holidays week at Lake Garda Mountains.
Outdoor incentives at Lake Garda
We are a group of friends or colleagues. We would like to make a short excursion. Have dinner afterwards and maybe spend the night in an alpine lodge (rifugio alpino) in the mountains.
GUIDED CLIMBING HIKING VIA FERRATA CANYONING TRIPS DOLOMITES ALPS

BRENTA TREK - From lodge to lodge in the Brenta Dolomites
Guided 5 days trip hut-to-hut with mountain guides. Crossing the Brenta Group from the South to the North

Via ferrata courses with mountain guides Arco
One day rock climbing course in the crags at Lake Garda. 2 days training on the via ferrata in the Alps of Trentino with your English speaking mountain guide

Via ferrata delle Bocchette in the Brenta Dolomites
Proposal of Mountaineering Alpine School Arco Trentino for the crossing from North to South of Brenta Group. From lodge to lodge, on the via ferrata "Bocchette del Brenta" with our mountain guides

Via ferrata Western ridge of Marmolada Alps
Guided via ferrata on the Western crest of Marmolada Top of Penia (3.343 m) suggested by Mountaineering climbing School Mountain Guides of Arco Trentino

Guided canyoning trips at Lake Garda Trentino
In this untamed mountain world the sun is passing through the rocks and playing with the crystal clear waterfalls. The mountain guides of our Alpine School are always at your disposal

Rock climbing courses in Italy and Greece
Rock climbing by mountain guides Arco, courses and personal instruction or tuition on Kalymnos Island in Greece. Via ferrata and mountaineering courses in the Marmolada Alps